Holy crap, it's been a month since I've posted. Sorry 'bout that. I know I've said it before, but I'll say it again...life gets in the way sometimes.
And sleep.
Sleep gets in the way a lot.
I want to do better. I've composed a lot of stuff in my head, but computers & me at night? Not getting along.
Anyway...
Apparently, I've been dumped. Not by Hubs...by a friend.
And I am heartbroken about it.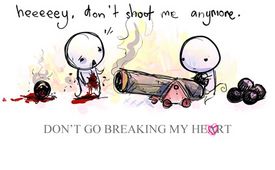 Kay and I met twelve years ago, the day she moved to the island we used to live on. We've seen each other through a lot - abusive relationships (hers), adultery (hers), parent drama (hers and mine), moves, new relationships (hers), post-partum depression (mine), depression in general (both of us), unemployment (mine), a suicide attempt (hers) - I'm sure there's more, but needless to say, a lot has happened, and although we don't get to see each other very often, I thought we had a very strong friendship.
I thought we'd be friends in the old folks home.
She called me about a month ago and told me (again!) that she was leaving her husband. We talked for a while, I assured her she was doing the right thing, and then we hung up.
A few weeks later, I received a shower invitation in a town about halfway between where the two of us live, and I called her to find out if she would be able to drive that far and spend a few hours together. We haven't seen each other since her wedding, and I really thought we could use a little time away from spouses and family and friends and stress, and just have a few hours to chill and gab and reconnect.
She was bawling when I called because she had left her husband a few days prior and also served him with divorce papers. I asked how she was doing, and how he had taken it, etc. She said he hadn't taken it well and had promised to change, blah, blah, blah. I pointed out that this was not the first time these issues had come up during their marriage and it was not the first time he had promised to change and
nothing has changed in 2+ years
- and perhaps I shouldn't have said it, but I did. I said, "He's never going to change. If he was going to change, he would have done it already."
The thing is - I want the best for Kay. I want her to have a fabulous marriage, drama-free, no lying, no cheating, and the baby she so desperately wants. I don't know her current husband well, but from what she's said, he's not the one. There have been accusations of cheating and alcoholism and lots of lying.
And she has told me at least once that
she
has hit
him
. Which is not right, and it's not the first relationship I know of that this has happened in. What I want for her is for her to figure out why she continues to pick these men who are abusive or unavailable, and also to get her emotions under control so that she never hits anyone else ever again...and I think both of these things are key to her being able to have a healthy relationship with the right guy.
And I feel bad criticizing her husband. When we were overseas, I finally told her I HATED her boyfriend after so many break-ups and beatings and drama, drama, drama. And when they got back together, it caused a big rift in our relationship. And then she had a relationship with a guy who was "separated" and I tried so hard to convince her that he was leading her on and the divorce was never going to happen (even though I hadn't met him, I just had this feeling). And when he told her that he and his wife had called off the divorce, it again caused a bit of a rift. So when I met the husband and thought he was rude and self-centered, I bit my tongue and didn't tell her that I didn't like him because I didn't want to be the one who was constantly tearing down the guys she was involved with, even if I do still feel my assessments were accurate. The second time I met him, the night before the wedding, my first impression was reinforced, but again, I bit my tongue because hello, he was about to marry my friend! Speaking up then is just not right. I barely knew him, and he was her choice, and I felt like it was my job to support her.
See? I do know that there is a time to speak up, and a time to keep quiet.
So speaking up that he wasn't going to change was the first time I spoke negatively to her about him.
I didn't think I was out of line. I didn't want her to go back to him in a moment of weakness and be unhappy for the rest of her life. If she
does
decide to go back to him, I will support her and pray that it works out this time and that they are happy together for the rest of their lives. I take marriage seriously, and I don't want to see any of my friends' marriages break up, but if they do break up, I will support their decision...and if they decide to stay together, I will pray for them to be able to work past their issues.
But since that conversation? Kay has not talked to me. I have posted on her Facebook wall. No response. Tried to call. Got a message that she was not accepting calls (another friend told me later that message means she has changed her number). Sent her an email. No response. Posted on Facebook again. No response. Sent her a message on Facebook asking if she was upset with me. No response.
I. Don't. Know. What. Else. To. Do.
So I've cried. I've gotten mad. I've stalked her on Facebook. I've gotten mad again at things she's posted. And now I've accepted it.
My friend has dumped me.
I won't have closure. I won't have answers. I want them so bad it's driving me crazy. But I refuse to contact her again.
I may be crazy, but I'm not out to prove it definitively.
So I'm letting go. However hard that is. However much it hurts. However much it makes me doubt how good our friendship really was.
However much it makes me doubt myself.
Because this is the second friend in five years to just walk away without a fight or explanation. The second time I have hung up the phone thinking all was good and never talked to that person again. The second time someone I loved like a sister and been through thick & thin with has walked away from me like I don't matter.
All I can say is...this sucks.
Have you ever had a friendship end suddenly without notice and without explanation? How did you handle it?